Alice: Madness returns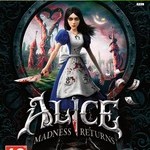 Starting Bid: Kč200.00
Starting at
Kč200.00
Ending On: 08. 04. 2013 00:00
Stop auto-refreshing Bids?
Alenka v říši divů v této podobě není pohádka, ale horror, a Alenčiným nejvěrnějším spojencem není ani černá královna, ani Tlachapoud, ale zakrvácený řeznický nůž zvaný "dranžírák".
Category: Hry XBox360
This auction is now closed.
Enter your email below to get notifications of new bids placed on the above item.
Shipping Details
Shipping: Při osobním odběru 0, poštou 80 Kč
From: Praha
To: n/a
Payment Details
Winner will receive mailing address via email.