Fable 3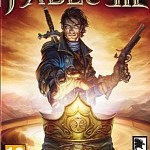 Starting Bid: Kč200.00
Starting at
Kč200.00
Ending On: 08. 04. 2013 00:00
Stop auto-refreshing Bids?
Fable 3 je jednoznačně precizní hrou s mnoha příjemnými detaily a perfektním ovládáním. Ze hry však každým coulem vyzařuje, že byla tvořena pro konzole a navíc méně zkušené hráče. Ti jistě vezmou zavděk vstupenkou do nádherného fantasy světa, kde se vše točí kolem vás. (Recenze Bonusweb)
Category: Hry XBox360
This auction is now closed.
Enter your email below to get notifications of new bids placed on the above item.
Shipping Details
Shipping: Při osobním odběru 0, poštou 80 Kč
From: Praha
To: n/a
Payment Details
Winner will receive mailing address via email.